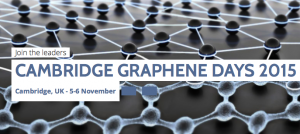 Cambridge Graphene Days 2015 | #CGD15 | 5-6 November 2015
Who should attend?
Anyone with an interest in traction of business involving Graphene and GRMs
Anyone wishing to understand barriers to adoption and use of graphene & GRMs
Anyone on a science and technology watching brief for G and GRMs
Anyone with a startup or entrepreneurial idea for G or GRMs
Anyone with business problems to solve that might be influenced or helped by G or GRMs
Those wishing to understand the full uptodate and prioritised range of applications and those nearer to and further from market
Anyone wanting to get an IPR landscape & investment level update for G and GRMs
Anyone wanting to meet new industrial and business entrants into the G and GRM areas
People wanting to build quality networks or ecosystems in this set of fields
Sector specific players seeking to access solution providers
Solutions providers seeking to understand customer pull in a range of sectors
Those in related areas of technology such as nanotech, IoT, cleantech who wish to see the potential and synergies with G and GRMs
Booking is open at http://www.hvm-uk.com/graphene2015/register
or please call +44 (0)1223 303500 for Maya, Justin or Jacqueline for options to sponsor, exhibit-speak, exhibit, attend this exciting festival of events over 2 days at the opening of the new building for the Cambridge Graphene Centre.
The CIR Team & the CGC look forward to greeting you 5-6 November in Cambridge, UK for CGD15.
Justin, Maya, Jacqueline, Nicholas