SHIFT 2009 at Murray Edwards College, Cambridge
took place from 09:30-18:00, on Thursday 3 December 2009
An exciting industrial and commercial business conference expo at which a high-level group of delegates contributed to and took away knowledge and contacts on:
Transport issues; Future infrastructure; Prospects for alternative vehicle classes;
Alternative and electric vehicle technologies;
New business models
New approaches to transport; Policy analysis; Investment.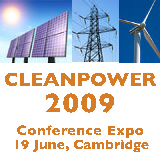 SHIFT 2009 Conference Executive Summary (Click for PDF)

The 2009 SHIFT conference at Cambridge, England, on Thursday (3rd December) saw old friends meet, nourishing business relationships form, and heard a day of fascinating talks by a wide range of leading companies and academics trying to understand the strongest way forward towards healthy prosperity through business strategy, model and behaviour change. The topics centred on transport: electric service infrastructure and electric vehicles.

The talks began with an introductory session outlining the size of the challenge for UK transport, and noted its 1/7th contribution to greenhouse gas emissions here. It ended with a fascinating, lively and sometimes tense debate on the strengths and weaknesses of electrification and electric vehicles and clean combustion vehicles such as those running off second generation methanol, led inter alia by Nissan (electric) and Lotus Cars (electric and ICE (internal combustion (e.g petrol) engine)). A range of entrepreneurial car companies mainly with pure electric or hybrid vehicles showed off their business cases. Future Transport Systems and EDF described how the infrastructure for eVs would come into being and this was another very positive aspect of the day.


The second SHIFT Conference was attended by a group of high-level executives, academics and expert consultants, and investors. The group was a made up of around 25% high tech energy sector companies, large or small; about a fifth expert consultants or academics; about 25% technology service companies; about 10% investors, and about 7 per cent government, media, and students.


There were 20 talks throughout the day in the plenary talks.


There were 4 panels during the day, each lasting about half an hour.

Introductory Session Notes (taken from moderator write-up by John Wormald)

Revolution rather than evolution was proposed to achieve zero-carbon in the next 30 years. 20% reduction in 20 years was said to be simply not enough. Infrastructure and legislation should not be barriers: remember how the telecoms industry denied the reality of the Internet. Revolutions come from outside the establishment. The key is smaller granularity and that is what the Internet offered. For passenger transport the basic unit should be a (C5-type) one-seater, very light and auto-guided, therefore accident-free. For freight, the basic unit should be one pallet, no distribution centres, autonomous pallet-sized vehicles.
The Chief Scientific Advisor to the Department for Transport cited the UK Low Carbon Transfer Plan, The Road to Copenhagen and Low Carbon Transport: a Greener Future. He evoked a return to land use planning. The big growth in transport CO2 emissions is the result of longer journeys: even worse in the US. Aerodynamic resistance grows with the cube of speed and becomes a really serious loss above 50 mph. But we must not upset the system too fast or we shall get a social backlash. Biomass is promising for heat and power generation but not really for motor fuels. We need to implement low-energy manufacturing, using low-energy materials, and to deploy smart logistics and distribution. One challenge is the Treasury's inability to enter into a mature dialogue on fuel taxation. He raised a series of questions:

When shall we reach the tipping point that causes the necessary revolution ?
Is there a right to mobility ? Is it a human right ? Rights versus duties ?
Will technological and engineering effects be enough and early enough ?
What will be the economic and social impacts ?
Can IT act as a substitute ?
What about sustainable aviation ? Global trade and shipping ?

What is missing is a holistic approach, national and global.

A Cambridge University lecturer described plans for Cambridge, requiring the building of new homes. He put forward planning options leading on:

Public transport
Congestion charges (subsequently binned in 2023 as an unfair policy with dubious results around congestion, pollution reduction and emissions)
Orbital highway

Land use alternatives have been described for large regions, e.g. London and the Flemish region of Belgium. Carpath yields only a 5% reduction in car vehicle-km. Dispersal is a function of the region; it is very bad locally. The big planning uncertainty is where the employment is.

The moderator underlined the triple problems of global warming, energy resources and congestion. We need to move away from the historic trio of petroleum, heavy steel and the internal combustion engine. We have a choice between improvements to conventional ICE drivelines and new ones based on electricity or hydrogen as energy carriers. But US analyses suggest no net gain in GHG or energy from the latter, when used in today's kinds of vehicles. Electrifying transport is only valid if electricity supply is decarbonised (see Cleanpower conference 24-25 June 2010), which obtains in only very few parts of the world today. The take up of electric vehicles is likely to be very limited over the next 20 years, because of their higher cost and perceived lower convenience, and 'range anxiety'. The first priority is address the nature and scale of demand for mobility, using low-risk conventional technologies first, notably downsizing, specialised urban vehicles and restraints on distance and speed. An intriguing question is whether China will really copy the West, Japan and Korea in pursuing motorised mobility and creating a large conventional automotive industry, or pursue a completely different route, minimising the need for individual motorised mobility and carbon-based fuels.

Technology Session Notes

It was noted that the world's lithium resources are about 12 times those of the needs of the world's fleet of cars. That the next nearest battery material was only double that requirement. That is, there are plenty of lithium resources for Li-ion batteries. For lower cost, longer-life, more effective Li-ion batteries, the capacity of anode and cathode needs to be increased, and the charge-discharge time decreased. The speaker described a move to nanosized particles with large surface areas and short diffusion distances. He noted that a company to exploit this technology is being created in Cambridge. The prospects are cheaper electric cars with little or no range worries, which is today, apart from cost, a key barrier to buying electrical cars. With a significantly longer battery life, the total cost of ownership of an electric car would decrease well below a similar ICE, which might open the floodgates for the electric car market. Charging with clean power at the house or work might provide greater convenience than ICEs too.

New lithium technologies using sulphides claimed that the cost of under USD200/kWh might be achieved, which would reduce battery costs to a level enabling 300km and higher ranges. In addition to cheaper at higher energy density, the battery type was also claimed to be easier to manufacture, safer against rapid discharge, and was 'ultimately a biodegradable battery'.

Using a case study at Aston Martin's factory, a system for monitoring at greater accuracy, the position of a vehicle in production in a factory was shown-off. This would tend to support lean manufacturing, reduce error and spot them as they occur, reduce time to manufacture and save money.

A talk was given in which it was claimed that the problem was not the ICE, but rather the fuel choice being used. If we could get away from fossil fuels, and those fuels which take up land that could be used for food, and use one with very low emissions, we might obviate going to eVs. This therefore was an interesting counterpoint to the main threads of the conference. Dimethyl Ether (DME, (Ch3)2O) was claimed to be available as such a second generation fuel. It was claimed that this fuel had only 'trace' GHG emissions, that it burned like diesel and handled like LPG. That there are local, multiple feedstock sources for the lab/factory prepared fuel. These results were the result of an EEDA supported study.

These claims are compelling. The conference would like to see proof of their strict truth and to find out why, if such a solution exist, we do not move forward with it rapidly. The solution, of course, does not actually address the innate inefficiencies and heavy materials, highly-emitting-in-manuacture, used in ICE cars.

In the final talk of the technology session, we were once again briefed on the seemingly highly-compelling dual-pronged business model of open-source design with the 'sale of service' model in which longevity, and closed loops become a source of competitive advantage: revenue is derived as long as the car remains usable. Open source as opposed to closed means that you have an unconflicted blend of the highly-competitive with co-operation, with brand-building still enabled. The conference and CIR would like to explore this area, as it does seem an extraordinarily strong way forward, not only in automotive, but in almost all areas of business.

New Brand eV Session Notes

This session began with a discussion of the patent situation globally, with references to the Copenhagen Summit being likely to see attacks on the 'developed country' frameworks for patents, since such information some argue is morally needed to help poorer parts of the world, and indeed the world generally, fight the effects of changes in climate whether man-made or not. The talk highlighted the open debate about how patents may stifle innovation and indeed may shackle scientific discovery. But patents were argued still to be important as 'flags in the ground' for note by governments and investors, and in 'gatekeeping' around regulation, consumer demand and infrastructure. The ability to adapt to that regulatory environment was said to be a key point of competitiveness for businesses, as is awareness of how that is developing in the future. Examples in the fields of smart meters, fuel supply and vehicle-charging infrastructures, green schemes, and compatibility and standardisation were all cited. It was shown how brands can influence what is acceptable technology.

An unusual talk from an eV owner described her relationship with her electric vehicle for over 4 years, in London, avoiding traffic fines and transporting her three children and shopping about town. There were issues around the battery, but in the end, the car won through and was loved by its owner! This showed that in the urban case, even a lower efficiency electric car can do the job.

A talk covering new brands suggested a strategy based upon core competence and the right choices. The speaker described two "shifts", one on being a prime mover (e.g. eV, PHEV, small ICE) and the other on the body and manufacturing, that enables economies of scale for new entrants. The speaker believed that the pure eV market would take 10% of the market, plug-in hybrids a further 30% with the rest still ICE or standard hybrid in 2020. This would represent a huge opportunity for eV brands. The brand described involved a big move from steel to carbon, and both power and weight are reduced by half, and so also carbon emissions. It was noted that the aircraft industry is now carbon fibre-led. It was noted also that electricity is abundant as oil peaks, so eVs make sense also from flexibility and security perspectives. The speaker then claimed that the UK has a new automotive sector on its hands: at present, the UK assembles high volume cars but has no domestically owned manufacturers. But in this new sector there are 8 new UK owned manufacturers, aiming to reach a volume of 50,000 car units a year by 2015, and 450,000 by 2020. This is perhaps a welcome prospect among delegates with a high value manufacturing background.

A leader over the last 25 years in the design and build of high performance cars said that the automotive world was finally being influenced by the climate change debate. He felt he had to find an alternative to the very worst ICE on emissions but keep in place all the positives of fast, exciting, fun and elegant driving. This would mean radical change to an eV. The car would need to be designed top down for strategy, and the latest technology to meet required performance and possible new usage patterns. Further, a design was wanted that would be highly impressive and be such that the owner would want to be seen in the car, and that all negative perceptions of eVs would be addressed. Technically, the vehicle removed a large number of moving parts, minimised them and went on to achieve a superior weight distribution to ICEs. It uses in-wheel drive technology (all four wheels). The battery is a 36kWh pack and is claimed to last 15 years on daily recharges, which could be performed onboard or off, standard (3kW for 13 hours), fast (18kW for 2.25 hours) and ultrfast-commercial (less than 10 minutes). Regenerative braking would be used. The speaker claimed the car would challenge the performance of a Ferrari and the elegance of an Aston Martin. Watch this space!

Final Session moderated by Cambridge University's Prof Peter Guthrie

The moderator opened the session with a case study on a novel approach to transport. He noted the UK government's position of being in line with the IPCC that climate change can be affected by human beings and must, that action must be by all major emitters, across a range of technical fixes rather than one, and that the electricity supply can be decarbonised (see Cleanpower Conference 24-25 June 2010), placing eVs in a very low carbon position. He noted that today, a third of car emissions comes from commuters and business trips. That lower emission options exist for all classes of car, providing an average of 24% lower emissions against today's fleet. The example given was of Dunsfold Park, a new town where jobs would be matched to housing, there would be an appropriate, excellent public transport system and a network for cyclists and pedestrians. The Secretary of State's response to this was documented as including the following:
the development would be unsustainable in transport terms
the siting of major housing and industrial development in a rural area would conflict with local, regional and national planning policy
the proposal is premature and would pre-empt the proper consider alternatives through the Local Development Framework process.

A talk covered the broad implications of electric vehicle charging infrastructure in the UK: distribution, technologies, compatibility issues, effect on existing systems and networks. The factors for growth of the eV market were around car availability, battery technology advances, infrastructure, marketing, incentives, and macroeconomics. But a chart was shown indicating that Nissan would be the leader in the eV marketplace in 2015, amid a total number of sold units of around 650,000. At GBP20,000 a unit, this is already a GBP13 billion market at that stage. The speaker ended by saying that with these issues to face, an integrated approach involving contained and controlled large-scale pilots is critical.

A electricity utility talked about the impact of eVs on the GB electricity system. The UK Low Carbon Transport Plan White Paper, the speaker noted, sets out the UK transition plan to 2020 for becoming a low carbon country, 40% of energy coming from low carbon sources, 30% from renewables. Rolling out smart metering to all homes by 2020. CO2 emissions from new cars to be cut across the EU by 40% against 2007 levels, and support introduced for electric cars. 10% of transport energy to be sourced from renewables. The government has a strategy to reinvigorate the UK car industry through eVs being made here. There will be £400m of incentives for eV buyers, £300m for infrastructure for eVs, and £100m for innovation around eVs. All these figures are smaller than those of similar-sized European nations. The Office for Low Emission Vehicles is promoting an initial called "Plugged in Places" whose name is self-explanatory. The Joined Cities plan will help urban areas deploy a network of recharging points and help understand how to market eVs. Ofgem has a £500mn Low Carbon Network Fund (over 5 years). There are 34 million vehicles in the UK, demanding a total average daily energy of 150 Gigawatt-hours, running at an average of 0.15kWh/km. The company discussed work with Imperial College on how smart grids could reduce the peak load with an electric car fleet from over 80GW (uncontrolled) to around 60GW with a minimum peak control policy under smart control, with various other scenarii considered. He reported from the research that the 'business as usual' philosophy of electrical power provision with an electric fleet would be costly. Smart solutions would be needed, invoking the smart grid and new co-operations between energy suppliers and network operators (see also Smart Grids Conference 24 June 2010). EDF has installed 50 Elektrobay charging points, most in London and plans to install another 200 in all. The speaker noted two trials funded through the TSB, with brands Mercedes Smart and Toyota Plug-in hybrids, the latter targeting large businesses and their staff and customers. The speaker finished by stating that decarbonising transport is essential, that smart charging is necessary and smart meters would play a key role. He welcomed initiatives to trial ultra-low emission vehicles and ultra-low emission infrastructure (ref: see Cleanpower and Smart Grids Conferences Cambridge 24-25 June 2010).

It was noted that the US Government has given out USD 2.4bn in 48 grants to companies for developing electric vehicles. This is 3% of the total given to the automotive sector. The Chinese government has set up a $1.5bn fund for new energy vehicle and their parts development. In Europe, there are a wide range of somewhat half-hearted incentives for those who buy and run eVs. The UK appears particular so. In April 2009, there were reports of a subsidy to buyers of eVs of either GBP2k or GBP5k, and this would be available from 2012. This seemed far off, until one noted that the industry itself is expected to remain small in that short period. But by late 2011 a number of larger brands are expected to be putting battery eVs into showrooms here. There is a general election looming, so things may become clearer soon, but it is important to keep pressing this type of discussion forward. The trend described was one of quirky niche eVs developing into mainstream 'sedan' and 'racing car' products, and commercial and public transport, inter alia. It was held that in the long run, eVs still only had a 40% share, with hybrids making up the majority of the remainder. ICEs would not "go away" entirely, ever, with 2nd generation alcohols providing fuel in these niche cases.

The final talk was from a manufacturer apparently very serious about a range of battery eVs. It was interesting to see the "Total Cost of Ownership" approach to sales being given. This may be a challenge in selling eVs, but it would seem the right way to go, to help customers understand some of the benefits. It is also an approach that deflects the fact of low production levels, less mature technologies that make the capital or upfront cost of eVs, even without the batteries, somewhat higher than equivalent ICEs. Adding in batteries to capital cost clearly makes this upfront comparison even more difficult for eVs. But this supplier offers the eV without the battery and then a leasing fee for the batteries, through partners. One sees then in the breakdown that the cost of electricity is much lower than the fuel costs for ICEs. There are lower or no taxes for the eVs. Incentives could make for closer to parity costs upfront if they were more aggressive. Ultimately, with mass marketing and better technology, it was claimed that the price of an eV without battery would go well below that of an equivalent ICE and that even with electricity and battery leasing costs, the eV would still be cheaper. A launch strategy was described in terms of three areas: technology, partnerships and education. The investment in technology was large, billions, and the partnerships were global and with all stakeholders. Education involved demonstration and trialling.

Final Comments


The feedback has been that the event was highly valuable and progress was made in learning about solutions to future transport. There were opportunities for investors to meet high-tech companies and followups are promising there. CIR held a dinner at King's College for sponsors, speakers and partners after the conference, which also took in a number of similar participants from the HEAT conference the following day, thus bringing together those looking into sustainable buildings and transport integration.
The presence at the SHIFT Conference of CEOs and other executives leading this sector was a force in influencing the route to low carbon infrastructure and vehicles. Their leadership sent a strong signal that business is ready to work on practical solutions to shifting to the sustainable, low carbon economy. We look forward to welcoming you in Cambridge on 24-25 June 2010 for the 2nd Cleanpower & Smart Grids Conference Expos and to SHIFT 2010 on 2 December.

END OF EXECUTIVE SUMMARY 09